Each
year, Audi presents the Magna Society Award to dealerships that have been identified as provi
ding superlative customer service while achieving strong overall business performance. This year, Tom Wood Audi is a Magna Society Award winner for the 4th year in a row!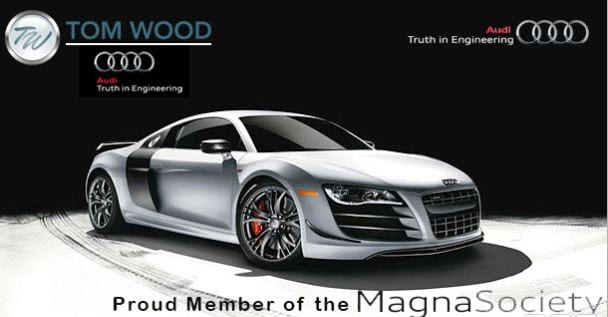 Audi established the Magna Society to recognize U.S. dealerships that stand out as the best of the best. To qualify, dealerships can't just meet or exceed sales targets. They must also demonstrate they are maintaining a solid financial foundation, merit high customer satisfaction scores and show their facilities and staffs represent the progressive Audi culture.The annual Magna Society awards fit with long-range plans established by Audi and its franchise partners to make Audi facilities more exclusive.
Congrats to General Manager Rod Ingalls and all of the staff at Tom Wood Audi on another outstanding year!